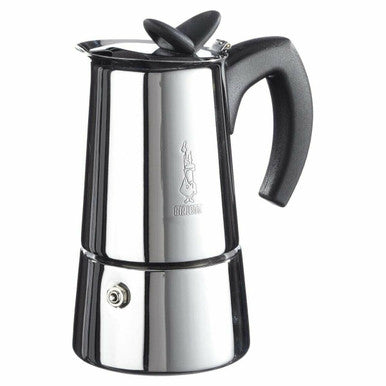 Bialetti Musa Induction 6 cup
In 1919, Alfonso Bialetti opened a workshop in Italy producing semi-finished aluminium products. Motivated by an entrepreneurial spirit, he transformed his workshop into a studio for the design and production of market-ready finished goods. Thanks to his brilliant intuition, in 1933, the Moka Express coffee maker was born.
Bialetti's legacy of quality and reliability lives on in their coffee makers. Bialetti began in Italy, but has become a leading brand around the world because their high-quality products bring simplicity, functionality and beauty to the kitchen. Their advanced technology and distinctive styling combine to create coffee makers that are simple to use and simply beautiful.
The elegance and functionality of steel for a coffee maker that gives the kitchen a cosy atmosphere. A timeless 18/10 stainless steel coffee maker, enhanced with a branded handle and elegantly shaped knob. Suitable for all hobs, including induction hobs.