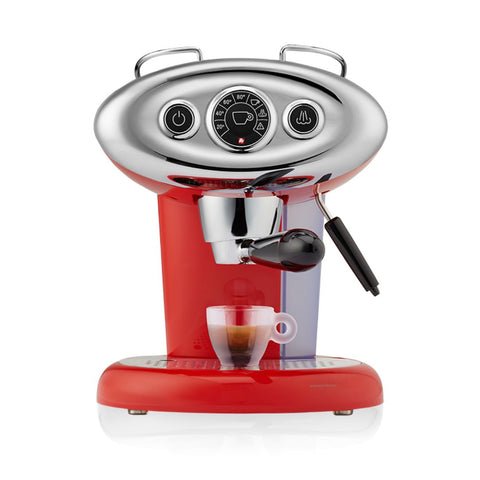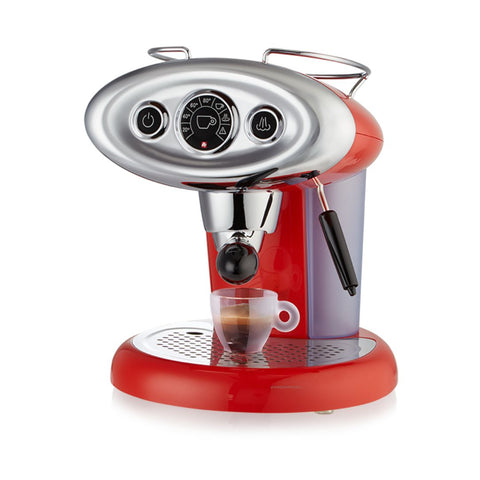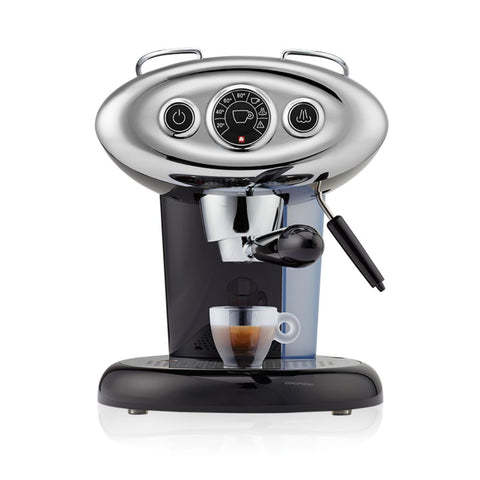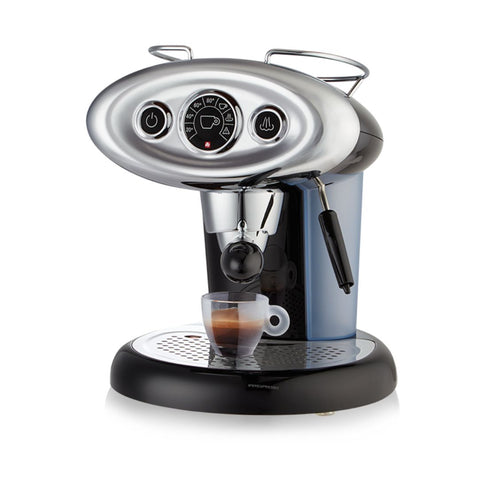 Francis X7.1 iperEspresso Machine
The beautifully-designed Francis Francis X7.1 iperEspresso machine features advanced technology including steel internal thermoblock, and a Pannarello steam wand that froths milk for creamy cappuccino and latte. Available in red or black, the X7.1 makes a striking statement in any kitchen.
The uniquely eye catching X7.1's round yet slender shape was inspired by iconic Italian design of the 1960s, while seamlessly integrating a modem control panel featuring soft-touch buttons.
Beauty is a notion that goes far beyond aesthetics, to essence. It's about filling your world with what's special - things that have stories, moments that have meaning, objects that inspire. The X7.1 features advanced technology to create beautiful coffees while making striking statement in any kitchen.
The innovative iperEspresso capsule system makes café quality espresso with ease Unlike conventional one-stage systems, the iperEspresso capsule system uses a, patented two-stage process to create intensely aromatic, full-bodied espresso with rich, long-lasting crema. And the capsules make for quick and easy clean up.
FAQs
Frequently asked question
La Dispensa delivers everywhere in Australia.
For more information about transit times and costs please see our Delivery Info page.
When will <product name> be available?</product>
Due to the geographic location of Australia in respect to Italy and the nature of products we offer for sale, not all products are available through out the year.
While we endeavour to have a wide range of products available as often as possible some are hard to get and their arrival is unpredictable.
Should we know in advance when a particular product will be restocked, we will write it on the relevan product's page.
Can I be notified when a product will be available?
Yes, register for a back in stock notification on the relevant product's page and you will receive an email when it will be back in stock.
La Dispensa is an exclusively online store. Everything we stock is available in this online store.
Do you have availability of...?
Products' quantities are correctly reflected in this online store.
If you try placing in the cart more units of a product than we have available in our warehouse, the system will adjust the item's quantity in your cart preventing payment of something that is not available.
What's your phone number?
La Dispensa is a completely online store and all available stock can be purchased online, so we have done away with the phone.
If you need to contact us, you can do so via the Contact page or by sending us a message on FB or IG.
Testimonials
What our clients say
As regular customer I can just say how amazing this store is, where you can find a lot of typical imported italian products, otherwise very rare to find, that brings me back to the past when I was living in Italy.
Outstanding customer service and very efficient delivery system.
Definitely recommended!!
Lovely service. Very responsive if you have any questions. Got my products in 48 h despite lockdown with lovely note. All products were beautifully packed inside my box. I felt like little girl opening Xmas presents.
My children were so happy to have their favourite biscuits. Keep up with great job and a presto! Will be ordering more.
Authentic high quality Italian food only one click away, and delivered within 48 hours at your doorstep. Amazing!
Thank you guys!
10/10 Great products, great service! Grazie!
I have just received my 4th order and I am satisfied as usual. Excellent products, accurate packages, fast delivery and immediate customer service response. What else!