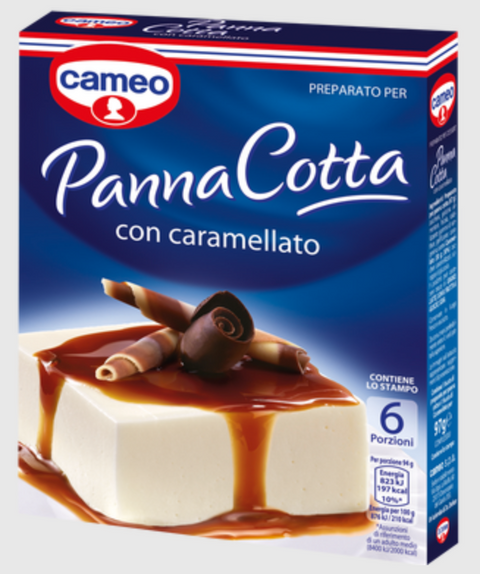 Cameo Panna Cotta with caramel 6 sachets 97g
Panna cotta with caramel topping
Directions
How to use: Pour 200 ml of whipping cream or double cream into a small saucepan, add 300 ml of milk and bring to boil. Remove from the heat, add the content of the big sachet, stir together. Bring back to boil at high temperature and steer for 2 minutes. Pour the cream into the mould and leave it to cool. Put in the fridge for 4 hours. Remove the Panna Cotta from the mould helping yourself with a knife, lay the panna cotta on the plates and decorate it with caramel.
Ingredients
Prepared For Panna Cotta: Sugar, Gelatine, Potato Flour, Stabilizer: Xanthan Gum, Gelling Agent: Carrageenan; Aromas. Caramel: (30 G, 30% Of Total): Caramelized Sugar, Glucose Syrup. The Product May Contain Traces Of Wheat, Milk, Eggs, Nuts And Soy.