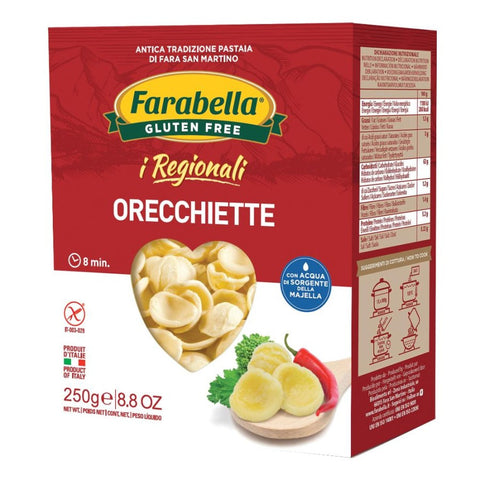 Farabella Gluten Free Orecchiette 250g
Farabella Gluten Free Orecchiette 250g
TIPS FOR PERFECT COOKING: Boil a large pot full of water: allow not less than 1 litre of water for g 100 of pasta. When it starts to boil, add approx. g 5 of kitchen salt for each litre of water and put the pasta in. Stir gently and boil for the time indicated on the package. Remove the pan from heat, strain, add your favourite seasonning and serve still hot.
STORAGE INDICATION: To be kept at room temperature until the expiration date. After opening, keep refrigerated and use within 3 days.
USEFUL INFORMATION: The Farabella Fresh Style Pasta is a fresh product that is stabilized thanks to our exclusive technology. It is shelf stable and can be stored at room temperature. Our aim was to develop a gluten free pasta product allowing a quicker and easier cooking process. This new pasta line has been created especially for you to give you the pleasure of eating gluten free pasta that has nothing to envy to the conventional one.
Ingredients: Corn flour, Rice flour, water, starch, salt, E200.