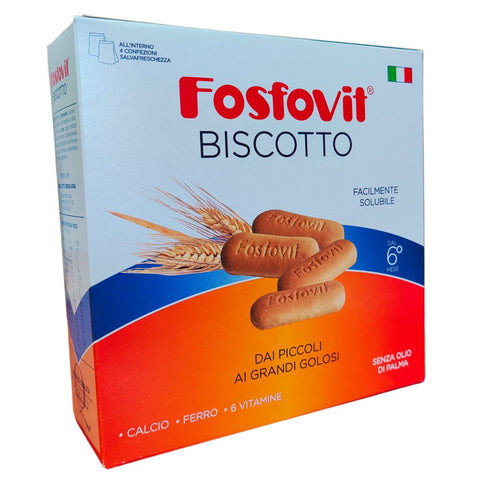 Lo Bello Fosfovit Baby Biscuits 360g
Fosfovit Baby Biscuits are made from carefully selected high quality ingredients and manufactured under strict hygienic conditions in Italy.

Fosfovit Baby Biscuitsl are:

· Nutritional tailored for babies from the 6 months old through toddler years;
· Tasty and easily digestible are enriched with the right balance of vitamins and minerals to meet the special requirements of a growing healthy baby;
· Crispy and easily dissolve in the mouth are suitable for babies to chew;

Feeding time:

Just crush some Fosfovit Baby Biscuits into a bowl. Add some baby milk or boiled water and mix. The meal is ready to be spoon-fed or to be bottle-fed. When your baby for self-feeding, offer Fosfovit Baby Biscuits straight from the pack. These Baby Biscuits are ideally shaped and therefore easy for your baby to hold.

A responsible person should always be with young children at feeding time particularly when they are learning to feed themselves.