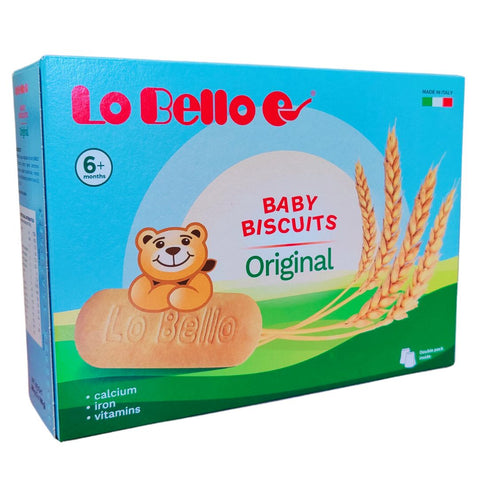 Lo Bello Original Baby Biscuits 200g
Lo Bello Original Baby Biscuits 200g
Made from carefully selected ingredients. * Nutritional tailored for babies form the 6 months old through toddler years * Crispy and easily dissolvable in the mouth are suitable for babies to chew.
Feeding time : Just crush some Lo Bello Baby Biscuits Banana into a bowl. Add some baby milk or boiled water and mix. The meal is ready to be spoonfed or to be bottle fed. When your baby is ready for self-feeding, offer Lo Bello Baby Biscuits straight from the pack. These Baby Biscuits are ideally shaped and therefore easy for your baby to hold.
Ingredients : Wheat Flour, Sugar, Vegetable Oil, Malt Extract, Leavening Agent (Ammonium Bicarbonate, Sodium Bicarbonate), Minerals, Flavourings and Vitamins (A, D, B1, B2, B6, Niacin). Contain gluten.