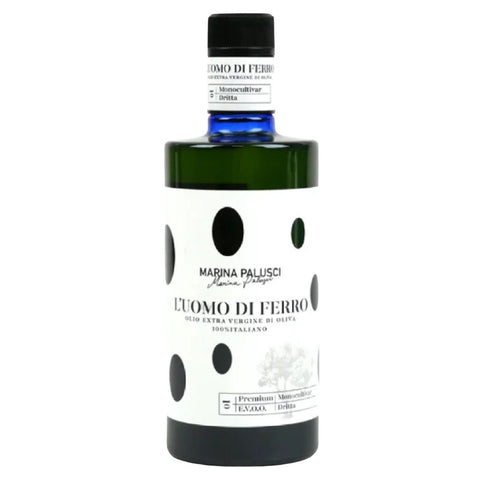 Marina Palusci Extra Virgin Olive Oil L'Uomo di Ferro 500ml
Marina Palusci L'Uomo di Ferro extra virgin olive oil is limpid, with a golden yellow color and light green reflections; on the nose, it is ample and enveloping, with hints of medium ripe tomatoes and balsamic notes of mint, basil and parsley. The mouthfeel is endowed with an ample vegetable flavor, with tones of artichoke and broad beans, lettuce and celery. Very distinct bitterness and well expressed spiciness, with a spicy black pepper and almond aftertaste.
Marina Palusci history
For many centuries, our agricultural enterprise started the cultivation of olive trees in the village of Pianella (from 200 to 300 m above sea level), a small commune situated on the Hills between the Adriatic coast and the National Park of the Majella. Among all the regions of the "Abruzzes", this zone is considered the most appropriate for the cultivation of the olive trees due to its geographical position. Writings of the period that goes back to 1155, the year when the first specialized olive-groves were planted in our country, describe the beginning of the clone selection of the «Cultivar Autoctona Dritta» (cultivation of the autochtone "Dritta"). Millions of centuries-old olive trees of our lands, which have safeguarded their most eminent aspect due to the meticulous work of many generations, are the token of the inseparable union of the argillaceous land and the "Dritta". For many centuries, we have been cultivating more than 7 hectares of olive-groves in this heavenly environment where the majestic hills embrace the silvery olive trees disappearing in the horizon along the declivities. Within this environment, the Wisdom, the Skill and the Passion of the farmers like those of the oil Masters who repeat constantly the same gestures with Love and devotion, unite to the state-of-the-art technologies in order to obtain a product of an exceptional quality known by the connoisseurs as "ORO VERDE" (GREEN GOLD).