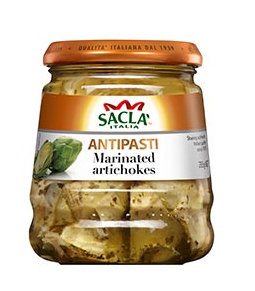 Saclà Marinated Artichokes 285g
DescriptionTender quarters of artichokes, traditionally marinated in herbs and oil. The perfect addition to any antipasti platter. Alternatively, toss through a salad, stir into pasta or enjoy as a great pizza topping.
IngredientsArtichoke 60%, Sunflower Seed Oil, Wine Vinegar, Salt, Extra Virgin Olive Oil, (Dried) Parsley 0.3%, Garlic (Powder), Acidity Regulators (330, 270), Spice & Herb Extracts 0.05%, Mace (Powder) 0.02%, Mustard (Powder), Laurel Natural Flavouring, Antioxidant (300).
Nutritional ValuesTypical nutritional values for 100g drained product:Energy 496kJ, Protein 1.7g, Fat, total 11g , Fat, saturated 1.3g, Carbohydrate 1.1g, Sugars 0.9g, Sodium 920mg.