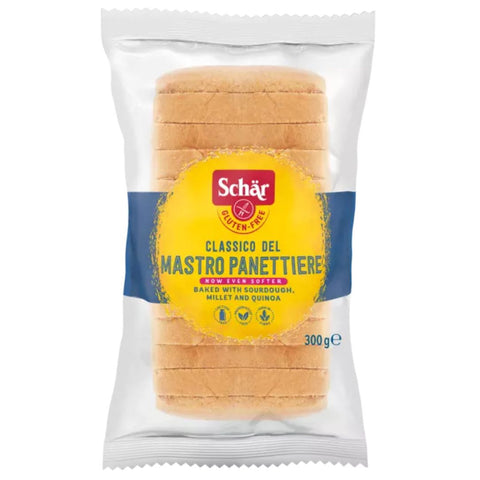 Schar Mastro Panettiere Classico Sourdough Bread 300g
Schar Mastro Panettiere Classico
The best tasting gluten-free sliced sourdough bread
Schär gluten-free Maestro Classic bread is made with sourdough and ancient grains (millet and quinoa), which makes it softer and juicier than ever before.
Dairy Free
Lactose-Free
Vegetarian
Egg-Free
Wheat-Free
Gluten-Free
Preservative-Free
No Palm Oil
Low Fodmap
Ingredients:
maize starch 

,

 
water 

,

 
sour dough (rice flour, water) 16% 

,

 
rice starch 

,

 
vegetable fibre (psyllium) 

,

 
rice syrup 

,

 
sunflower oil 

,

 
soya protein
,
thickener: 
hydroxypropyl methyl cellulose 

;

 
millet flour 1,9% 

,

 
quinoa flour 1,3% 

,

 
yeast 

,

 
honey 

,

 
iodised salt (salt, potassium iodide) 

.

 
May contain traces of lupine and mustard.
LACTOSE-FREE. WHEAT-FREE.
Storage:
This product is packed in a protective atmosphere. Store in a cool, dry place. Once opened, reclose the packaging and consume within a few days or freeze as soon as possible.