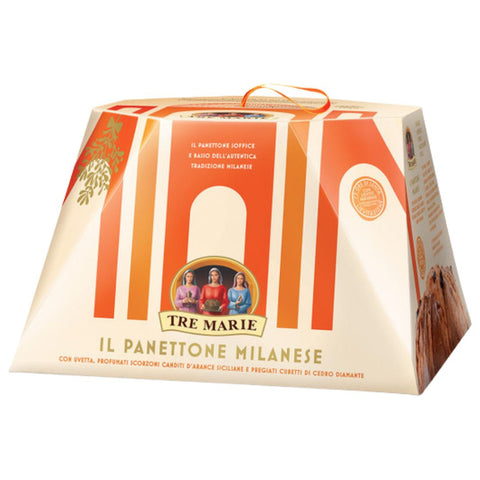 Tre Marie Panettone Milanese 750g
Tre Marie Panettone Milanese is a traditional cake made from the historical confectionary in Milan; with strict adherence to the original recipe: 3 kneading phases, 3 days of slow rising, 8 hours of cooling and the cutting of the distinctive eight-pointed star shape on top by hand called "scarpatura" from an ancient custom of cutting a cross into a loaf as a symbal of blessing the daily bread.
Tre Marie's commitment and passion for quality are reflected in the carefully selected ingredients, from the flour to the fresh eggs, from the candied fruit to the raisins - including the most precious ingredient - the natural "Mother" yeast.
Tre Marie Panettone Milanese is a low dome-shaped cake with a hand cut "star" on the top. Delicate, soft, buttery, this cake is studded with golden raisins and candied orange and citron peels. According to Tre Marie, keep panettone in a warm environment for at least one hour before serving. This will bring out its goodness and natural fragrance.